SS 304/304L Welded Pipe Manufacturers in India
We are a leading stainless steel 304 welded pipe manufacturers, with ex stock inventory of 600 tons. We manufacture, stock and sale ss 304 welded pipes in round, square and rectangular form with either mill finish or polished surface. Mill finish (Annealed & Pickled) stainless steel 304 welded pipes are generally used for industrial applications, where as polished ss 304 welded pipes are used for architectural and structural applications. Given our daily sales volume of 20-30 tons of stainless steel 304/304L welded pipes in India, we are capable of offering our customers with the best quality at lowest prices in the industry. We sincerely welcome new and old customers to co operate with us for all their stainless steel 304 welded pipes requirements.
SS 304 welded pipes are manufactured from plate or from continues coil or strips. To manufactured SS 304 welded pipe, first, plate or coil is rolled in the circular section with the help of plate bending machine or by a roller in the case of continues process.
ASTM A312 – This specification covers seamless, straight-seam welded, and heavily cold worked welded austenitic stainless steel pipe intended for high-temperature and general corrosive service
ASTM A358 – This specification includes electric-fusion-welded austenitic chromium-nickel stainless steel pipe.
| | |
| --- | --- |
| Product | Stainless Steel 304 Welded Pipes |
| Equivalents | WNR. 1.4301, UNS S30400, AISI 304, AISI 304L, 1.4306, UNS S30403 |
| Specification | ASTM A 312/ASME SA 312, ASTM A 358/ASME SA 358, ASTM A554, ASTM A249 |
| Size | 1/2″ to 48″, Thickness: SCH 5S, 10S, 40S (STD), 80S (XS), 160, XXS |
| Length (mm) | 6000, 3000, 2000, 12000, Custom Length |
| Finish | Annealed & Pickled, 2B, No.4, Mirror, Polish |
| Packing | Bundled Packing |
| Services | Cutting, Beveling, Threading, Polishing |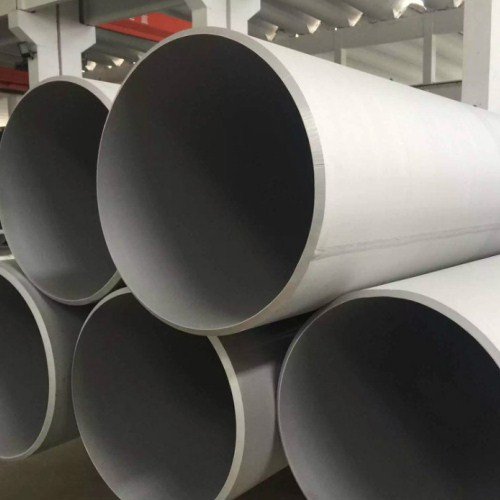 We Sell High Quality SS 304 Welded Pipes at Reasonable Prices!
High Quality, But Low Prices for SS 304 Welded Pipe!
If you are looking for high quality stainless steel 304 welded pipe manufacturer, contact us on sales@metline.in or +919987448842
Product Range for SS 304 Welded Pipes
Product
Stainless Steel 304 Welded/ERW/Fabricated Pipes & Tubes
Standard Size
1/2″ NB to 16″ NB
ERW Type
1/2″ NB to 24″ NB
Fabricated (EFW Type)
6″ NB to 100″ NB
Unit Length
6 m, 12 m, 18 m, Custom Length
Thickness (mm)
0.8mm – 30 mm
Surface Finish
Anodized, Brushed, Mill Finished, Solution Annealed and Pickled, Polished Grit 120 – 600, Mirror Polished
Shape
Round, Square, Rectangular
Specification
ASTM A554, ASTM A312, ASTM A358 Class I to V, ASTM A249, ASTM A213, ASTM A268, ASTM A269, ASTM A789, ASTM A790
Type
Welded, Fabricated, ERW (Electrical Resistance Weld), LSAW Pipes
Material Grades
Austenitic Stainless Steel:
304/304L/304H(1.4301/1.4306/1.4948);
316/316L(1.4401/1.4404); 316Ti(1.4571); 321(1.4541); 309S
(1.4833); 310S(1.4845); 317L(1.4438)321H(1.4878); 347H (1.4550);
Duplex Stainless Steel: S32001, S32003, S31500, 2205(1.4462);
S32304,(1.4362);S31803,2507 (S32750),
S32760(1.4501);S32101(1.4162);
Super Austenitic Stainless Steel: 904L, S30432, S31042, 6Mo
(S31254, N08367)
Nickel Base Alloys: Alloy 20 (UNS N08020), Monel 200 (UNS
02200), Monel 400 (UNS N04400), Incoloy 800 (UNS N08800),
Incoloy 800H (UNS N08810), Incoloy 800HT (UNS N08811),
Incoloy 825 (UNS N08825), Inconel 600 (UNS N06600), 4J29,
4J36, GH3030, GH3039, C276 (UNS N10276)
Martensitic Stainless Steel: 410(1.4006), 410S(1.4000),
420(1.4021)
Ferritic Stainless Steel: 405(1.4002), 430(1.4016)
Applications
Decoration, Construction, Hardware, Mechanical Structure, Chemical Equipment, Pharmaceutical Equipment, Food Processing
Certification
EN 10204 3.1
Testing
Hydro Tested, Chemical, Mechanical Test, PMI
Inspection
Third Party Inspection, Buyer Inspection
Packing
Weaving Bag, Seaworthy Bundles, Wooden Case if required
Delivery Time
1-2 Days for Material in Stock, 7-30 Days for Make to Order Materials
End
Plain Ends, Bevelled Ends, Threaded Ends
What is 304 Stainless Steel? About 304 Stainless Steel
Stainless steel 304(SS304) is the most basic stainless steel known as 18-8 grade with higher chromium and low carbon content. The low carbon content restricts carbide precipitation during welding as well as minimizes its susceptibility to intergranular corrosion. Stainless steel 304L(SS304L) is an extra low-carbon variation of SS304 with a 0.03% maximum carbon content that eliminates carbide precipitation due to welding. Both SS304 and SS304L have excellent resistance to a wide range of atmospheric, chemical and petrochemical, and food industry corrosions. Usually, they can be used in applications with the maximum temperature of 1650°F[900°C] exhibiting good oxidation resistance.
304L alloy's lower carbon content helps minimize/eliminate carbide precipitation during the welding process. This allows 304L stainless steel to be used in the "as-welded" state, even in severe corrosive environments.
If you were to use standard 304 stainless in the same way, it would degrade much faster at the weld joints.
Basically, using 304L eliminates the need to anneal weld joints prior to using the completed metal form—saving time and effort.
In practice, both 304 and 304L can be used for many of the same applications. The differences are often minor enough that one isn't considered massively more useful over the other. When stronger corrosion resistance is needed, other alloys, such as grade 316 stainless steel, are usually considered as an alternative.
Chemical Composition of 304 Stainless Steel, WNR. 1.4301, UNS S30400
Chemical Composition %
 
C
Mn
Si
P
S
Cr
Ni
Fe
304
0.08 max.
2.00 max.
1.00 max.
0.045 max.
0.03 max.
18.0 – 20.0
8.0 – 10.5
Balance
304L
0.03 max.
2.00 max.
1.00 max.
0.045 max.
0.03 max.
18.0 – 20.0
8.0 – 12.0
Balance
304H
0.04-0.10
2.00 max.
1.00 max.
0.045 max.
0.03 max.
18.0 – 20.0
8.0 – 12.0
Balance
Equivalents of 304 Stainless Steel
UNS Designation & International Equivalent for Stainless Steel 304
Type
UNS
JIS
EN/DIN
EN/BS
EN/NF
ISO
GB
GOST
304
S30400
SUS304
X5CrNi18-10
304S31
Z7CN18.09
11
0Cr18Ni9
08KH18H10
304L
S30403
SUS304L
X2CrNi19-11
304S11
X2CrNi19-11
10
00Cr19Ni11
03KH18H11
Mechanical Properties for WNR. 1.4301, UNS S30400, 304 Stainless Steel
| | | | |
| --- | --- | --- | --- |
|   | 304 | 304L | 304H |
| Density | 8 | 8 | 8 |
| Melting Range,℃ | 1400 ℃ | 1400 ℃ | 1400 ℃ |
| Elongation % | 40 | 40 | 40 |
| Tensile Strength (Mpa) | 515 | 485 | 515 |
| Yield Strength (Mpa) | 205 | 170 | 205 |
| Hardness (Brinell) | 201 | 201 | 201 |
Physical Properties of WNR. 1.4301, UNS S30400, 304 Stainless Steel
Grade
Density (kg/m3)
Elastic Modulus (GPa)
Mean Coefficient of Thermal Expansion (m/m/0C)
Thermal Conductivity (W/m.K)
Specific Heat 0-1000C (J/kg.K)
Electrical Resistivity (n.m)
0-1000C
0-3150C
0-5380C
at 1000C
at 5000C
304
8000
193
17.2
17.8
18.4
16.2
21.5
500
720
Applications of WNR. 1.4301, UNS S30400, 304 Stainless Steel
Pipeline Transport, Boiler Pipe, Hydraulic/Automobile Pipe, Oil/Gas Drilling, Food/Beverage/Dairy Products, Machinery Industry, Chemical Industry, Mining, Construction & Decoration, Special Purpose
Off-Shore Oil Drilling Companies
Power Generation
Petrochemicals
Gas Processing
Specialty Chemicals
Pharmaceuticals
Pharmaceutical Equipment
Chemical Equipment
Sea Water Equipment
Heat Exchangers
Condensers
Pulp and Paper Industry
Various Product Search Related Keywords or Tags
SS 304 Welded Pipe, SS 304 ERW Pipe, SS 304 EFW Pipe, Stainless Steel 304 ERW Pipe, Stainless Steel 304 EFW Pipe, Stainless Steel 304 Welded Pipe, 304 Welded Pipe, ASTM A312 Stainless Steel 304 Welded Pipes, ASTM A358 Stainless Steel 304 Welded Pipes, SS 304L welded pipe manufacturers, 1.4306 Welded Pipe Suppliers, UNS S30403 Welded Pipe Factory, SS 304L Welded Pipe Factory